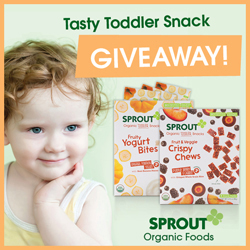 I'll admit we get into a rut at our house when it comes to meals and snacks. For some reason, I seem to be able to create variety at dinner time, but lunch is almost always PB&J and snacks are far too often Goldfish. My toddler just seems happy to be able to eat most of the time, he's not incredibly picky, but lately, he has become more vocal about what he wants. He'll say no and want to choose something else. I'm fine with this as long as what he's choosing is a mom approved snack.
A few weeks ago, Sprout Foods sent my toddler a sample package of their fruit snacks. The mail came right at snack time, so we dove in! We got to choose from Fruity Yogurt Bites in flavors like Strawberry Carrot Yogurt and Fruit and Veggie Crispy Chews in Red Berry & Beet. I was desperate to taste his snack too, but he wasn't really keen on sharing! Daddy did get to steal a couple bites!
Over the next week, my toddler always reached for the Sprout Foods pouches in the pantry over the Goldfish and Teddy Grahams. This made me incredibly happy. As soon as he polished off the last pouch of Sprout Foods, I began scouring our neighborhood grocery stores for more!
I love that the snacks are organic and contain real fruit. This is a much healthier option over what I was offering for snacks and my toddler is thrilled with the taste! Sprout Foods also makes purees in convenient pouches for babies and entrees for toddlers.
You can purchase Sprout Foods at your local grocery store or save $1 on your purchase at Diapers.com with the coupon below.
Sprout Foods would also like to give you the chance to win your very own Sprout Foods Sample Pack! I guarantee your toddler will love it as much as mine! Enter on the Rafflecopter below and good luck!
a Rafflecopter giveaway
#spon: I'm required to disclose a relationship between our site and Sprout Foods. This could include the Sprout Foods providing us w/ content, product, access or other forms of payment. Check out the new Sprout Foods website at www.sproutorganicfoods.com.